---
The history of McD's
---
Basic rules for operating a fast food restaurant
---
Fast Food Facts
---
Reasons McDonald's became so successful
---
McDonaldization explained
---
McDonaldization's Other Precursors
---
Advantages of McDonaldization

---
Ways to Cope with McDonaldization

---
McDonaldization In My Life - Today

---
Conclusions
---
Bibliography

---
The history of McD's
---

It all started with the McDonald brothers: Maurice and Richard. In 1940, the brothers decided to open a small drive-in restaurant, because the only business that they had seen succeeding in the current economy was a little hot-dog stand. To their own surprise their business was an instant success, making $40,000 profit in its first year. Desiring greater speed in serving customers, the brothers shut the store down for a few months to restructure the store.


The first McDonald's
The first step was getting rid of all the carhops. Next, the menu was cut down from 25 items to 9, which mostly consisted of hamburgers. They replaced their old grills for larger, more efficient kinds. The plates and silverware was replaced by paper, taking away the need for a dishwasher and constant replacements. The size of the burgers was cut down, and the workers, not the customers, put the condiments on the burger.
In an effort to increase speed and efficiency more, the McDonald brothers ordered 8 milkshake machines that made 5 shakes at the same time, from a man named Ray Kroc. Intrigued by a business that would need so many milkshake machines, Kroc decided to give McDonald's a visit of his own. Liking what he had seen, Ray Kroc offered to run the franchising for McDonald's and offering them a percentage of profits in return. Eventually, the brothers simply sold the business (for much less than they could have asked for) and got out.
Ray Kroc made some of his own changes, by changing the size of the burgers and standardizing the burger process. The burger patty was to be 3 5/8 inches in diameter. The fat content was between 17 and 20 percent. He demanded his employees' cleanliness and exact uniforms.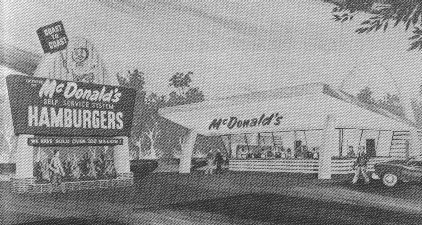 Ray Kroc's dream McDonald's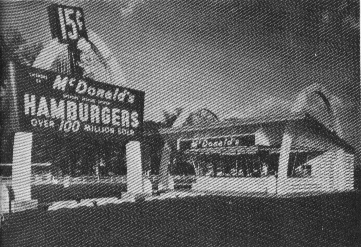 Ray Kroc's dream come true


Starting in 1955, there were 7 McDonald's stores. In 1956, 12 more were added. In 1957, there were 40. By 1958, 79; by 1959, 145; by 1960, 228; by 1970, 1500; and by 1980, 6200. In 1990 a store was opened in Moscow, Russia. There are currently over 7000 McDonald's restaurants in over 25 countries around the world. McDonald's, a simple restaurant, started by two brothers who had failed in every business they had tried, has set the standard for fast-food restaurants and for franchising.

McDonald's of the 1970's


McDonald's in China


McDonald's in Germany


the response to a McDonald's in Russia

---
compiled from Luxenberg and Halberstam